Special Order Ketolicious Cakes
 Introducing Keto Cake Delivery
If you are looking for keto cake delivery shipped to you, you've arrived at the right place! The newest addition to our special orders is our made-to-order Ketolicious Cakes. A keto birthday cake delivered is the perfect addition to your celebration – or any special occasion!
These  Ketolicious Bake Shop cakes are 8″, triple-layer cakes with your choice of cake and frosting. The cost of each cake is $65 plus shipping and handling.
Our delicious cakes are keto- and diabetes-friendly, gluten- and sugar-free. Made with only wholesome ingredients, this is your healthier version of a dessert with all the flavor and none of the guilt.
Each cake is made-to-order especially for you by Ketolicious Bake Shop.
Every effort will be made to accommodate your request. If we can accommodate your request, you will be emailed the total cost of your order (which is the price of the cake plus shipping and handling) along with a link to a password-protected page from which you will be able to finalize your order and process payment. If we cannot accommodate your request, we will notify you as soon as practical.
If you are interested in ordering, please complete the pre-order form and be sure to submit it.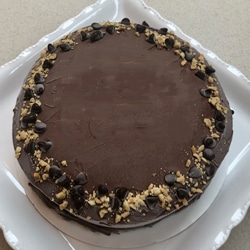 Immediately upon receipt, place the cake in the refrigerator for 7 to 10 days or freeze up to 6 months.
For the best flavor, leave out on the counter for 2 hours prior to serving.
Allergen Alert: Our cakes are made in a facility that uses eggs, nuts and dairy.
 Keto Cake Flavor and Frosting Choices
On the pre-order form, you can choose your cake flavor from carrot, chocolate, lemon or vanilla and also select your frosting from: cream cheese, chocolate, lemon, peanut butter or vanilla. You pair your favorite cake flavor with any of our decadently delicious frostings for the perfect combination!
Keto Cake Delivery and Shipment
Since Ketolicious Bake Shop values your business and is honored to be a small part of your celebration or special dinner, please call if you do not hear back from us within 48 hours after you submit your request. We would hate to disappoint you.
We ship to all 48 states. If you're local to Califon, NJ, we can arrange pickup or delivery. Local delivery is generally limited to a 10-mile radius from Califon, NJ.  
Note: Your order is NOT confirmed until your payment has been processed successfully.
Shipping and handling will be calculated by customer service prior to you placing your order. If you proceed with your order, please be certain to choose the shipping carrier noted in your confirmation email when placing your order.